Jef Geys
September 11th – October 24th, 2015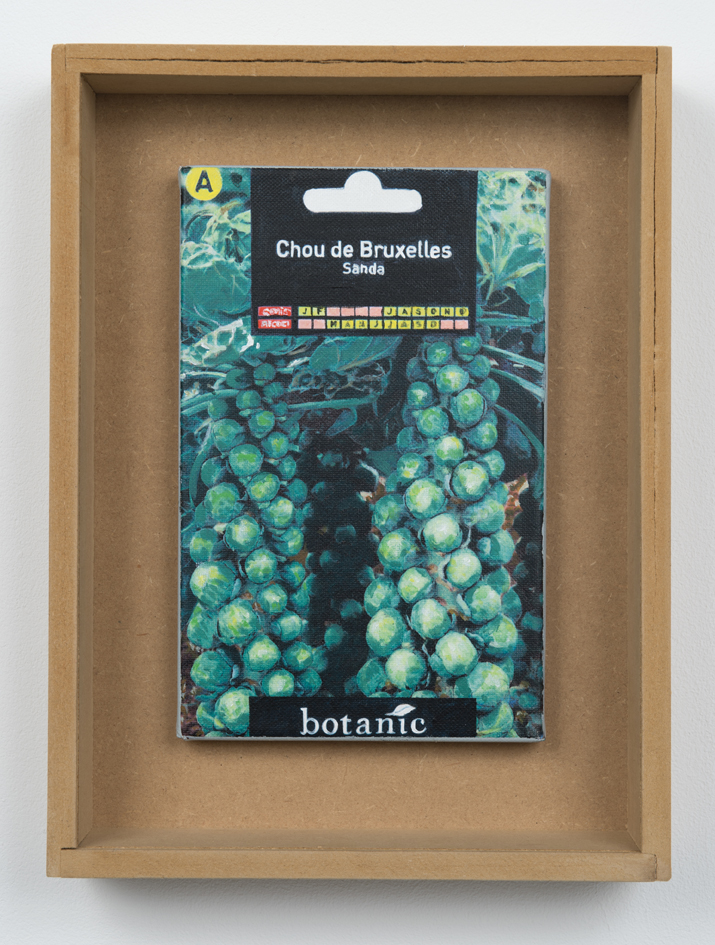 Chou de Bruxelles (Sanda), 2009
oil on canvas in wooden frame
35,5 x 26,5 x 7 cm, without frame 25,5 x 16,5 cm
unique
Depuis plus d'une cinquantaine d'années, Jef Geys construit son œuvre sur la remise en jeu permanente de l'art et de sa définition. Refusant tout autant la sacralisa- tion de l'art que la reproduction de ses œuvres dans les catalogues, il choisi d'éditer son propre journal - Kempens Informatieblad - pour accompagner chacune de ses expositions depuis 1971.

A l'occasion de sa deuxième exposition personnelle à Air de Paris, il propose de poursuivre une série initiée dans le parc du musée de Middelheim en 1999. Jef Geys avait alors disséminé de délicats dessins à la plume sous Plexiglas, inspirés par des gravures érotiques du début du XVIIIème auxquels étaient associés des logos de marques populaires de la mode, la chimie, le luxe, le voyage, l'alimentaire… Pour le catalogue de l'exposition chaque dessin était référencé et titré par le nom d'une fleur cueillie dans le jardin. Elles composent aujourd'hui un herbier et complètent chaque dessin original sous forme de diptyque.

La sémantique du végétal fait régulièrement apparition dans sa production, à l'image de «Quadra Medicinale», son installation conçue spécialement pour le pavillon belge de la biennale de Venise en 2009 et pour laquelle il avait demandé à quatre personnes vivant dans des métropoles de référencer les plantes sauvages apparaissant dans leurs environnements immédiats. Ici, elle s'invite à travers une peinture de sachet de graines «Chou de Bruxelles (Sanda)» et vient compléter un éphéméride ritualisé depuis 1962 proposant une large variété telles que «Viola Alpina (Reuze Alpenviola/Pensée géante des Alpes)», «Oeillet d'Inde Légion d'honneur (Tagetes patula nana/afrikanen Erekruis)», et autres «belles de jour».
Jef Geys (1934 à Leopoldsburg, vit et travaille à Balen, Belgique). Ses oeuvres seront exposées à l'occasion de «Take Me (I'm Yours)» sous le commissariat de Christian Boltanski, Hans Ulrich Obrist et Chiara Parisi du 16 Septembre au 8 Novembre à la Monnaie de Paris. Il participe également à «Atopolis» au Manège de Sury à Mons, Belgique (commissariat de Dirk Snauwaert et Charlotte Friling). Il a aussi représenté la Belgique lors de «Quadra Medicinale», 53ème biennale de Venise et a également participé à dOCUMENTA XI, Kassel. KEMPENS est la traduction de Campine, région des Flandres où il vit.
←
→
exhibition view
Air de Paris, Paris, 2015
For over fifty years now Belgian artist Jef Geys has been building an oeuvre based on an ongoing challenge to art and its definition. Rejecting both the veneration of art and the reproduction of his works in catalogues, since 1971 he has opted for publishing his own journal – Kempens Informatieblad – to accompany each of his exhibitions.

For his second solo show at Air de Paris, Geys is continuing a series begun in the grounds of the museum in Middelheim, Belgium, in 1999: a scattering of delicate ink drawings in Plexiglas, inspired by erotic engravings of the early 18th century were accompanied by the logos of products in fields including fashion, chemicals, luxury goods, travel and food. For the title of each drawing the artist used the name of a flower picked in the museum grounds; the flowers now make up a herbal and are added to each original drawing to form a diptych.

The semantics of the vegetal world is a regular part of Geys's output, as in Quadra Medicinale, the installation he created for the Belgian pavilion at the Venice Biennale in 2009. For this work he asked four city dwellers to make a list of the wild plants growing in the immediate vicinity. Here this same semantics is present in the form of a painting of a packet of seeds titled Brussels Sprouts, the latest addition to an ephemeris Geys has been ritualising since 1962 in works including "Viola Alpina (Reuze Alpenviola/Pensée géante des Alpes)", "Oeillet d'Inde Légion d'honneur (Tagetes patula nana/afrikanen Erekruis)" and other pleasures for the eye.
Jef Geys (b. 1934 in Leopoldsburg, lives and works in Balen, Belgium). His work will be on show in September as part of "Take Me (I'm Yours)" (curated by Christian Boltanski, Hans Ulrich Obrist and Chiara Parisi from September 16 to November 8 at the Monnaie de Paris. He also participates to "Atopolis" at Manège de Sury in Mons, Belgium (curated by Dirk Snauwaert and Charlotte Friling). He represented Belgium at the 53rd Venice Biennale with his "Quadra Medicinale" installation and took part in DOCUMENTA XI in Kassel. KEMPENS is the part of Flanders he lives in.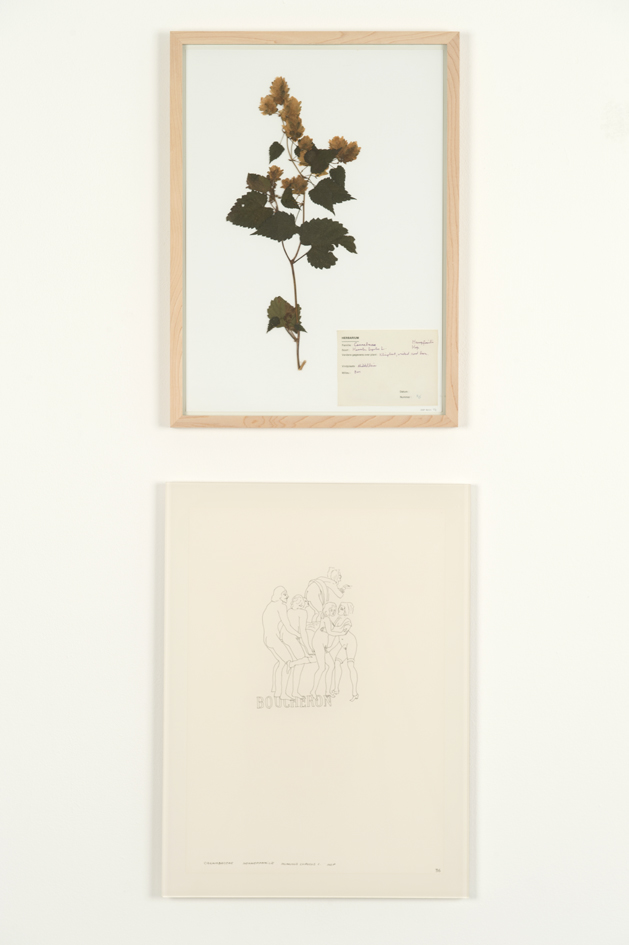 Cannabaceae Hennepfamilie Humulus lupulus L. Hop, 1999
diptych: ink on paper under plexiglas; dried flowers and collage on paper, wood frame and glass
51 x 38 cm; 49 x 36 cm, without frame 45 x 31,5 cm