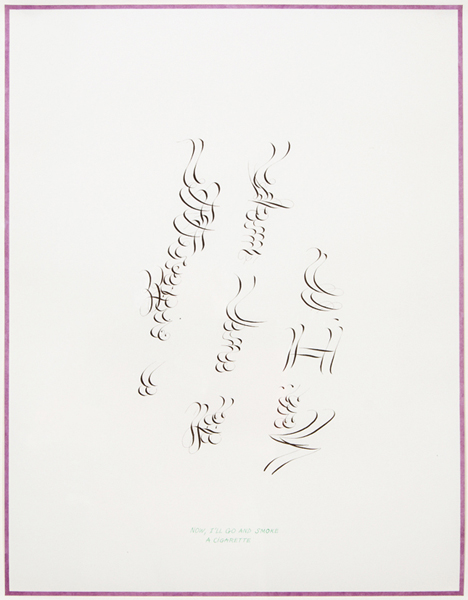 Now I'll go and smoke a cigarette
undated
framed ink on paper
63,5 x 50 cm
FR

Cette annonce, manifestation invétérée de liberté est aussi une phrase récurrente de l'oeuvre de Guy de Cointet. En effet, elle incarne parfaitement la nonchalance de l'artiste, sa curiosité encyclopédique et sa fantaisie qui selisent littéralement comme elles s'entendent, dans ses dessins comme dans ses textes de théâtre. C'est donc naturellement qu'elle titre sa quatrième exposition personnelle à Air de Paris.

Guy de Cointet naît à Paris en 1934 et émigre à New York en 1965. Après avoir fréquenté la Factory d'Andy Warhol, il devient l'assistant de Larry Bell qui l'entraîne à Los Angeles un an plus tard. Dans ce contexte où le minimalisme reçoit toutes les ferveurs, il développe une oeuvre basée sur une autre forme à priori simple : le langage. En premier lieu à travers sa langue, le français en opposition à celle du pays dans lequel il vit, puis l'anglais qu'il entend et lit à travers les journaux, annonces publicitaires, mais aussi lors du visionnage régulier de soap opera. En 1971, il publie son premier livre ACRCIT, véritable codex de son oeuvre, journal analysant les diverses structures du verbe, distribué gratuitement dans les kiosques de la ville, il sera même plus tard utilisé comme accessoire sur scène. Cette même année, il réalise de nombreux dessins (dont certains sont réunis aujourd'hui), poursuivant ici un alphabet tant néo qu'imaginaire, entremêlant différents types, sources, mode d'apparition et de restitution de phrases, formules grammaticales et linguistiques. Aussi bien influencé par Ferdinand de Saussure que Raymond Roussel, il élabore des systèmes dans lesquels le langage est code et image, et où la peinture se lit, s'entend et se ressent, devenant actrice à part entière, à l'instar de la peinture blanche tant horizontale que verticale «sans titre» dont l'exact contexte et date d'apparition reste aujourd'hui encore énigmatique. Peut-être nécessite-t-elle (elle aussi) l'intervention d'un miroir pour refléter ses secrets ? L'exposition présente aussi l'arythmie de welovejad (sorte de hashtag avant l'heure), la première (et ultime) partie de son journal intime, ainsi que le dessin éponyme dont la date est toujours inconnue.

Notez aussi qu'en 1979, lors de la première présentation de Tell Me dans laquelle apparaît le journal mentionné plus tôt, Michael (alias Denise Domergue) disait déjà à Mary (interprétée par Jane Zingale) : Michael : Mary, tu as une cigarette ? Mary : Une cigarette ? Prends donc un Scotch, plutôt. Michael : Non... Je préfère un verre. Mary : Que veux-tu boire ? Michael : Une Marlboro. Mary : Une Marlboro... Michael, je suis désolée, je n'ai plus de Marlboro. J'ai fini la bouteille hier matin. Que dirais-tu d'un Havane ? Michael : Parfait. Mary : Voilà. Profites-en. Tu as de la chance. Je reviens juste de la Havane. Ceux-là sont délicieux... J'en bois un aussi.

L'oeuvre de Guy de Cointet a fait l'objet de nombreuses expositions rétrospectives dont récemment à Culturgest, Lisbonne ainsi qu'au M-Museum, Leuven. Elles sont présentes dans de prestigieuses collections à travers le monde parmi lesquelles LACMA, MoCA, Los Angeles, MoMA , New York, Tate Modern, Londres, Reina Sofia, Madrid et Centre Pompidou, Paris.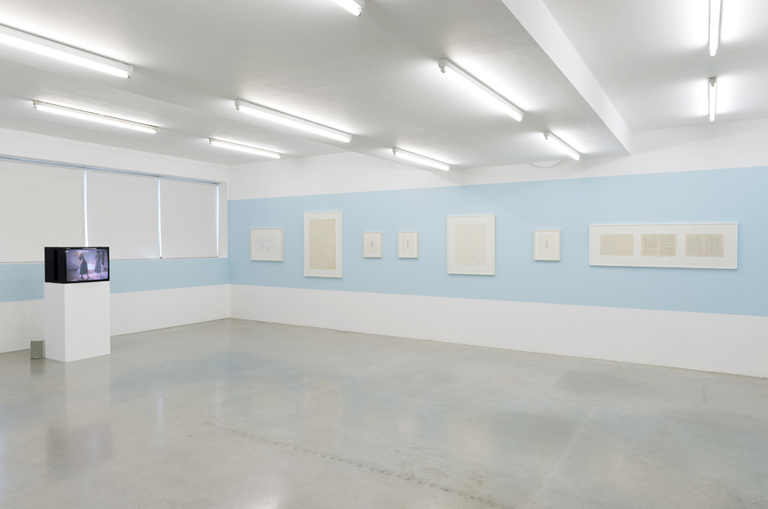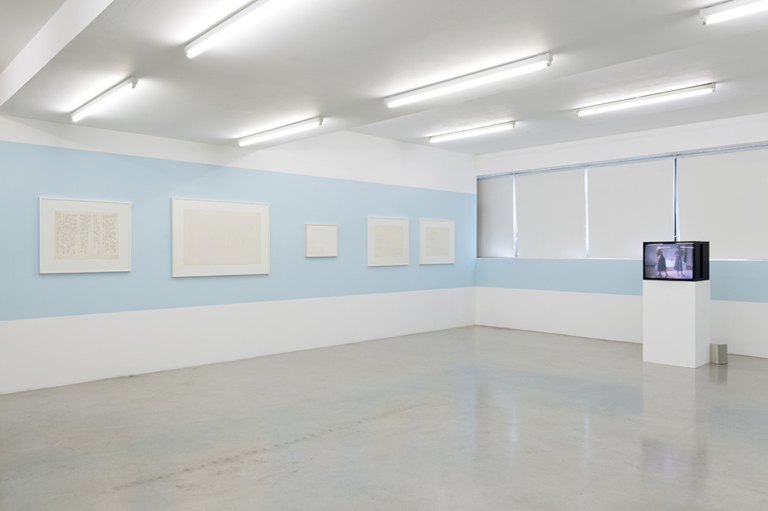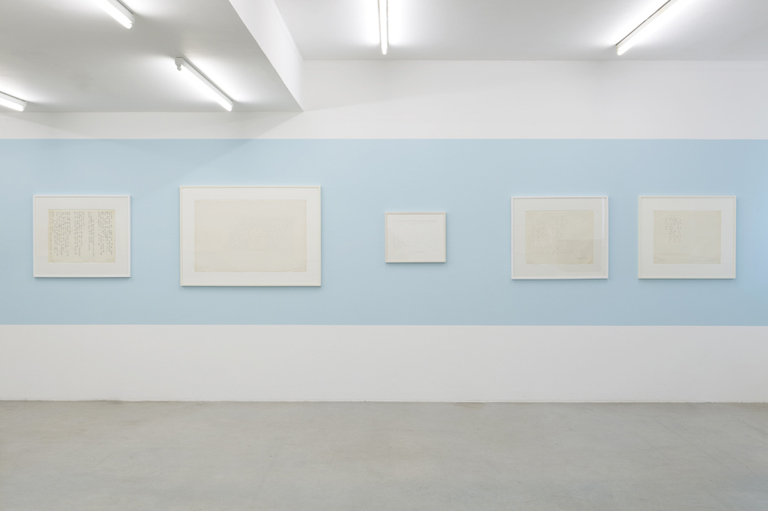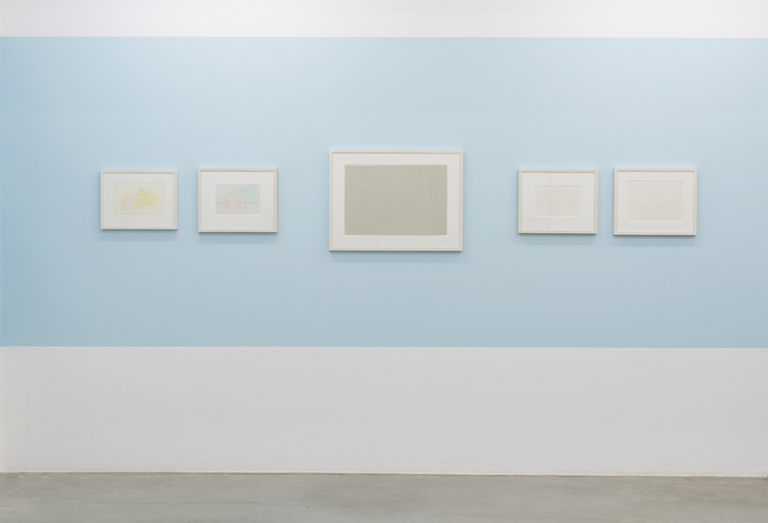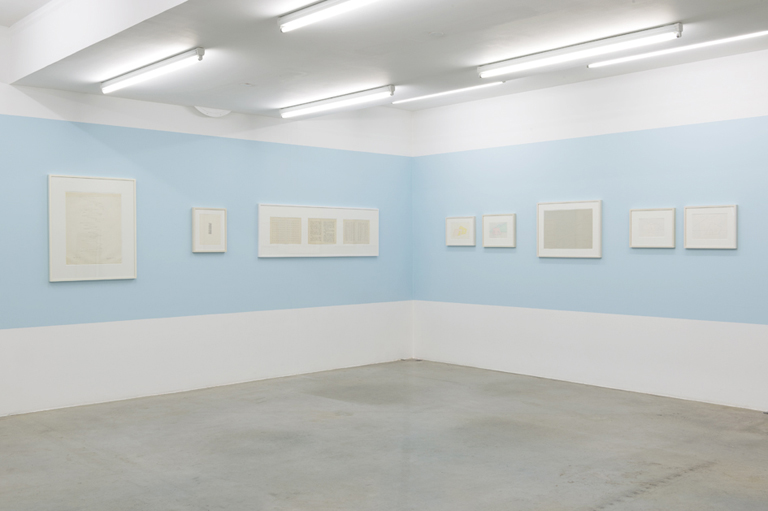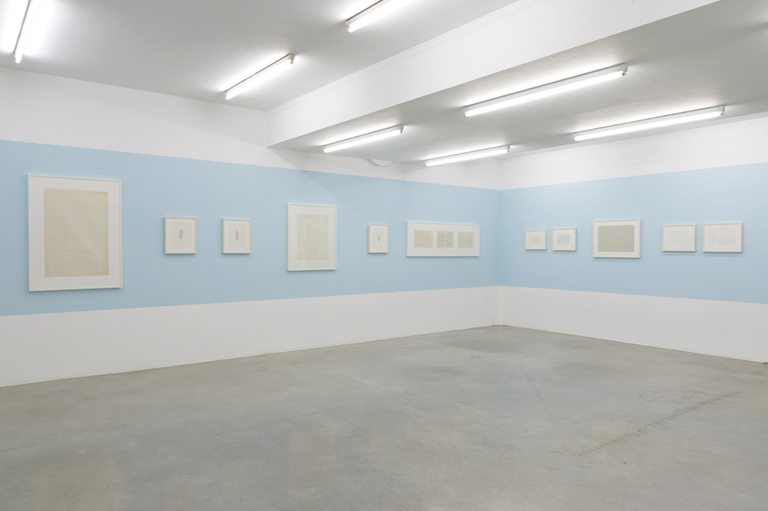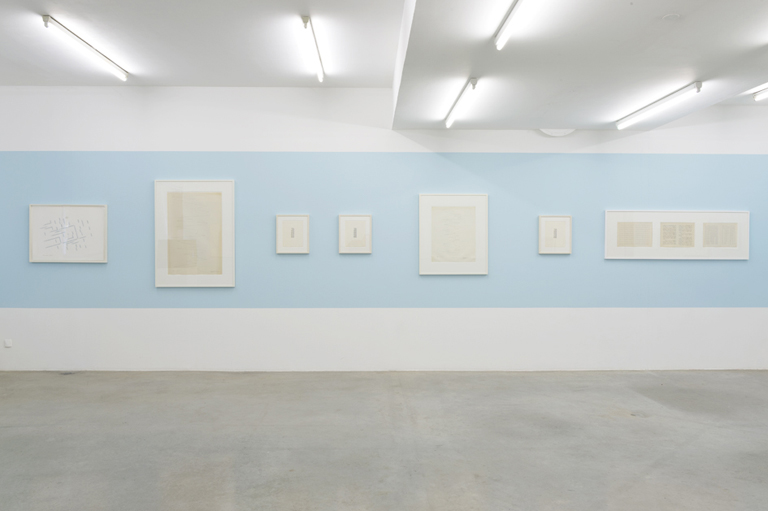 ---
UK

A time-honoured signal of personal freedom, this statement was also a recurring feature of Guy de Cointet's oeuvre – and the perfect embodiment of the nonchalance, encyclopaedic curiosity and whimsicality to be literally read, as well as listened to, in his drawings and theatre texts. It's only natural, then, that it should provide the title for his fourth solo exhibition here at Air de Paris.

Guy de Cointet was born in Paris in 1934 and migrated to New York in 1966. After hanging out briefly at Andy Warhol's Factory, he began working as an assistant for Larry Bell, who lured him to Los Angeles a year later. In the city's passionately Minimalist context he built up a body of work based on another, theoretically simple form: language. Firstly using his mother tongue, French, in opposition to the language of the country he was living in, then the English he gleaned from what he heard around him, the press, advertising and the TV soaps he was a fan of. In 1971 he published his first work, ACRCIT: a veritable codex, a newspaper analysing verbal structures, it wentout free on newsstands and later even turned up as a prop in the stage works. The same year he made lots of drawings – some of them brought together here – as he pursued his work on an alphabet at once innovative and imaginary, intermingling typefaces, sources and modes of presentation, and recreating sentences and grammatical and linguistic formulae. Equally influenced by Ferdinand de Saussure and Raymond Roussel, he developed systems in which language was both code and image, and in which painting read, heard and felt becomes an actor in its own right, like the white horizontal/vertical painting-object whose exact context and date of appearance remain an enigma. Could it be that it (too) needs a mirror to reflect its secrets? The exhibition also includes the arrhythmia of welovejad (a kind of early days hashtag), the first (and last) part of de Cointet's diary, and the title drawing whose date is still unknown.

And let's not forget that in 1979, at the premiere of Tell Me – in which ACRCIT appeared – Michael (alias Denise Domergue) was already dialoguing as follows with Mary (played by Jane Zingale): Michael: Mary, got a cigarette? Mary: A cigarette? Have a scotch instead. Michael: No, I'd rather have a drink. Mary: Like what? Michael: A Marlboro. Mary: A Marlboro... Michael, I'm sorry, I'm out of Marlboro. I finished the bottle yesterday morning. What would you say to a Havana? Michael: Great. Mary: There you go. Enjoy. You're in luck, I'm just back from Havana. These are delicious… I'll drink one too.