01.02 - 30.03.2019
Jef Geys
Paravents (As Sombras de Lisboa)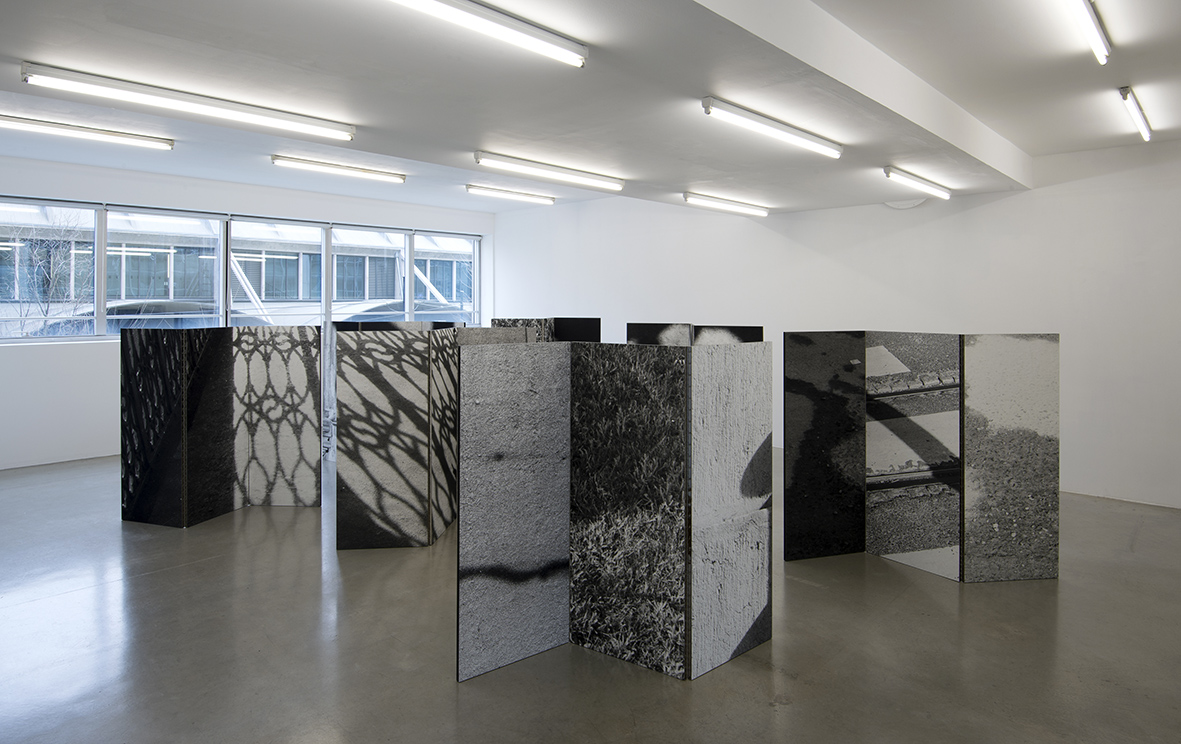 Vue de l'exposition "Paravents (As Sombras de Lisboa), 2019. © Photo Marc Domage
Communiqué de presse / Press release

Vues d'exposition / Exhibition views ↓

UK ↓

En 1998, Jef Geys se rend à Lisbonne au Portugal, patrie d'Amália Rodrigues (1920–1999) qui le fascine. Durant les quelques jours que dure ce voyage d'agrément il prend des dizaines de photographies. Loin des clichés touristiques, il saisit dans un geste répétitif les ombres projetées sur les pavés et les murs.

C'est également en 1998 qu'est publié « Jef Geys: Al de zwart-wit fotos's tot 1998 », ouvrage qui rassemble les planches-contacts des photographies en noir & blanc réalisées par Jef Geys depuis 1958. Sur 500 pages sont réunies par séries des images d'individus, de chalets, de vaches, de nus, de cyclistes, de moments semblant anodins, autant de photographies prises sans aucun critère esthétique particulier. 500 planches-contacts qui témoignent de l'importance de la photographie dans l'œuvre de l'artiste - à la fois comme moyen de représentation du monde et d'expression du vernaculaire. Pendant plus de soixante ans, Jef Geys s'est attaché à interférer dans « les pratiques souveraines de l'art » en y conviant notamment l'intime.

Sur invitation de Miguel Wandschneider, Jef Geys présente en 2012 « As Sombras de Lisboa » à Culturgest. Sa première exposition lusitanienne est composée d'un ensemble de photographies sélectionnées parmi celles de la 500e planche-contact. Fortement agrandies, elles servent de toile de fond à l'accrochage d'une image identique, mais de taille réduite. Pour opérer l'ensemble de ces choix (sélection, dimension, ...), il met en place un protocole visant à une passe de fonction entre l'artiste et le curateur.

Ce même déplacement est reconduit à l'occasion de son exposition à Yale Union en avril 2018. Nicholas Tammens, curateur de l'exposition, explique que « Geys a mis en place un jeu en prescrivant au curateur une tâche habituellement dévolue à l'artiste ». Partant de cette même série de photographies, Jef Geys a commandé la fabrication de sept paravents. Revenait ensuite au seul jugement esthétique du curateur le choix des images qui recouvriraient ces paravents, à partir des restes de l'exposition précédente.

Ce sont ces sept paravents qui sont aujourd'hui exposés, recréant sur les sols et les murs (d'Air) de Paris, les ombres de Lisbonne.

Jef Geys (1934-2018, Belgique) est considéré comme l'un des artistes belges les plus importants de sa génération. Depuis 1971, l'artiste éditait le journal Kempens Informatieblad (en référence à la région des Flandres dans laquelle il vivait), publication à valeur documentaire accompagnant chacune de ses expositions. Jef Geys a représenté la Belgique à la 53e Biennale de Venise en 2009. Il a également été invité à la Documenta 11 en 2002, .... Il a exposé dans le monde entier, notamment au M HKA, à Anvers (2017, 2011, 2009); IAC Villeurbanne / Rhône-Alpes (2017, 2007); S.M.A.K., Gand (2015); Cubitt, Londres (2013); CNEAI, Chatou (2016, 2014, 2012); Centre d'art contemporain WIELS, Bruxelles (2013, 2009); Musée d'art contemporain de Detroit (2010); Fondation Bawag, Vienne (2009), entre autres.

---
In 1998, Jef Geys travelled to Lisbon, hometown of the legendary fado singer Amália Rodrigues (1920–1999), who holds a fascination for him. During his brief «rest and relaxation» stay he took dozens of photographs: not at all your standard tourist stuff, but over and over shadows cast on pavements and walls.

The same year saw the publication of «Jef Geys: Al de zwart-wit fotos's tot 1998» (All the Photos in Black and White until 1998): all his b&w contact sheets since 1958. 500 pages divided into series: individual people, chalets, cows, nudes, cyclists – seemingly insignificant moments reflecting no particular aesthetic criteria. 500 contact sheets signalling the importance of photography in the Geys oeuvre, both as representation of the world and vernacular expression. For over 60 years now he has been busily tampering with the «sovereign practices of art», notably via his resort to the private and personal.

In 2012, at the invitation of curator Miguel Wandschneider, Geys showed As Sombras de Lisboa (Shadows of Lisbon) at Lisbon's Culturgest gallery. His first exhibition in Portugal was made up of a group of photographs from the 500th contact sheet. Substantially enlarged, each served as a backdrop to a smaller version of the same image. For the overall presentation – selection, dimensions, etc. – Geys came up with a protocol involving the swapping of functions between artist and curator.

This same transposition marked his exhibition at the Yale Union art centre in Portland, Oregon, in April 2018. As Nicholas Tammens, curator of the exhibition, explained, «Geys set up a game and prescribed a task usually under the jurisdiction of the artist.» With the same series of photos in mind, Geys commissioned seven folding screens, leaving it up to the curator to choose the images that would cover them, among the remains of the previous exhibition.

These are the seven screens now on show here, recreating the shadows of Lisbon on the floor and the walls of (Air de) Paris.

Jef Geys (1934–2018, Belgium) was among Europe's most respected yet under-acknowledged artists. Since 1971, Geys has been the editor and publisher of his local newspaper, the Kempens Informatieblad, and subsequently produced them in line with his exhibitions. Jef Geys represented Belgium in the 53rd Venice Biennale International Art Exhibition in 2009. His work was included in Documenta 11 in 2002,.... He has exhibited worldwide including at M HKA, Antwerp (2017, 2011, 2009); IAC Villeurbanne/Rhone-Alpes (2017, 2007); S.M.A.K., Ghent (2015); Cubitt, London (2013); CNEAI, Chatou (2016, 2014, 2012); WIELS Contemporary Art Centre, Brussels (2013, 2009); Museum of Contemporary Art Detroit (2010); Bawag Foundation, Vienna (2009), amongst others.