loading…
• Réservations en ligne
• Guide de visite
• Press room
Air de Paris is pleased to invite LambdaLambdaLambda to exhibit what would have been their FIAC 2020 booths.

All the artists included in this presentation work on the notion of the everyday, picking up content, be it language or material things from real or virtual surroundings.





Nora Turato

In her work, Nora Turato translates information absorbed from her daily intake of articles, conversations, subtitles and advertising slogans into linguistic-visual scripts for videos, installations, artist books, murals and spoken word performances. All that surrounds her finds its way back into her work. In this manner she is democratic; political statements merge with Kardashians quotes in equal measure, revealing subtle synchronisms in social relations, marketing strategies, consumer behavior and their own subjectivity. Moreover, it immortalizes a means of communication which threatens to dissipate with the ubiquity of digital correspondence. Turato channels the textual hysteria emitted from our smartphones to accentuate the volatility of language when taken out of context. Her work speaks to an age in which language is disconnected from its informative function and words are abstracted from meaning.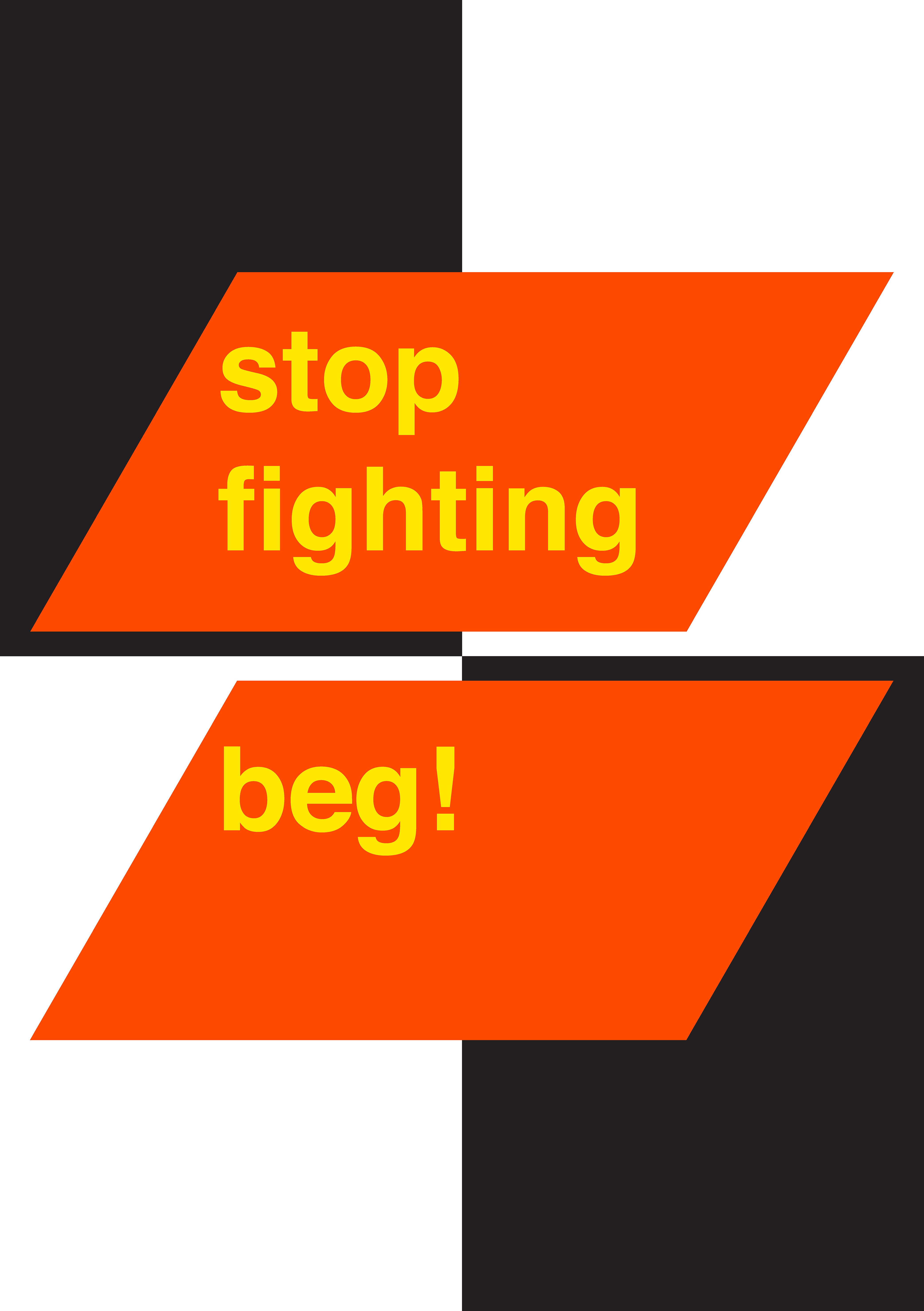 Nora Turato, "Untitled", 2020. Inkjet-print on semi glossy photo paper, 110 x 156 cm. Courtesy of the artist and LambdaLambdaLambda.
Yuji Agematsu

Japanese-born, long-time resident of New York, Agematsu is known for carefully collecting and sculpturally preserving small-scale urban refuse. Materials range from everything to a banana peel to plastic bags to an old, desiccated bar of soap to objects that thwart identification. The date, time, location (some times accompanied by a drawn map) of each discovery is noted in a small notebook. The formal presentation of Agematsu's discoveries varies, and is liable to be a single, discrete object pinned directly to a wall, a number of objects together (conjoined not by him, but by the city) or finally his signature calendars ("zip"). His most iconic body of work, the calendars consist of a Plexiglas display case featuring thirty or thirty one cigarette packages, cellophane wrappers which individually contain whatever might have been found on the street on that particular day of a given month (which always corresponds to an actual calendar month). If each cellophane wrapper seems to comprise a rich and variegated world, then each complete calendar is the compact and vivid repository of an entire universe.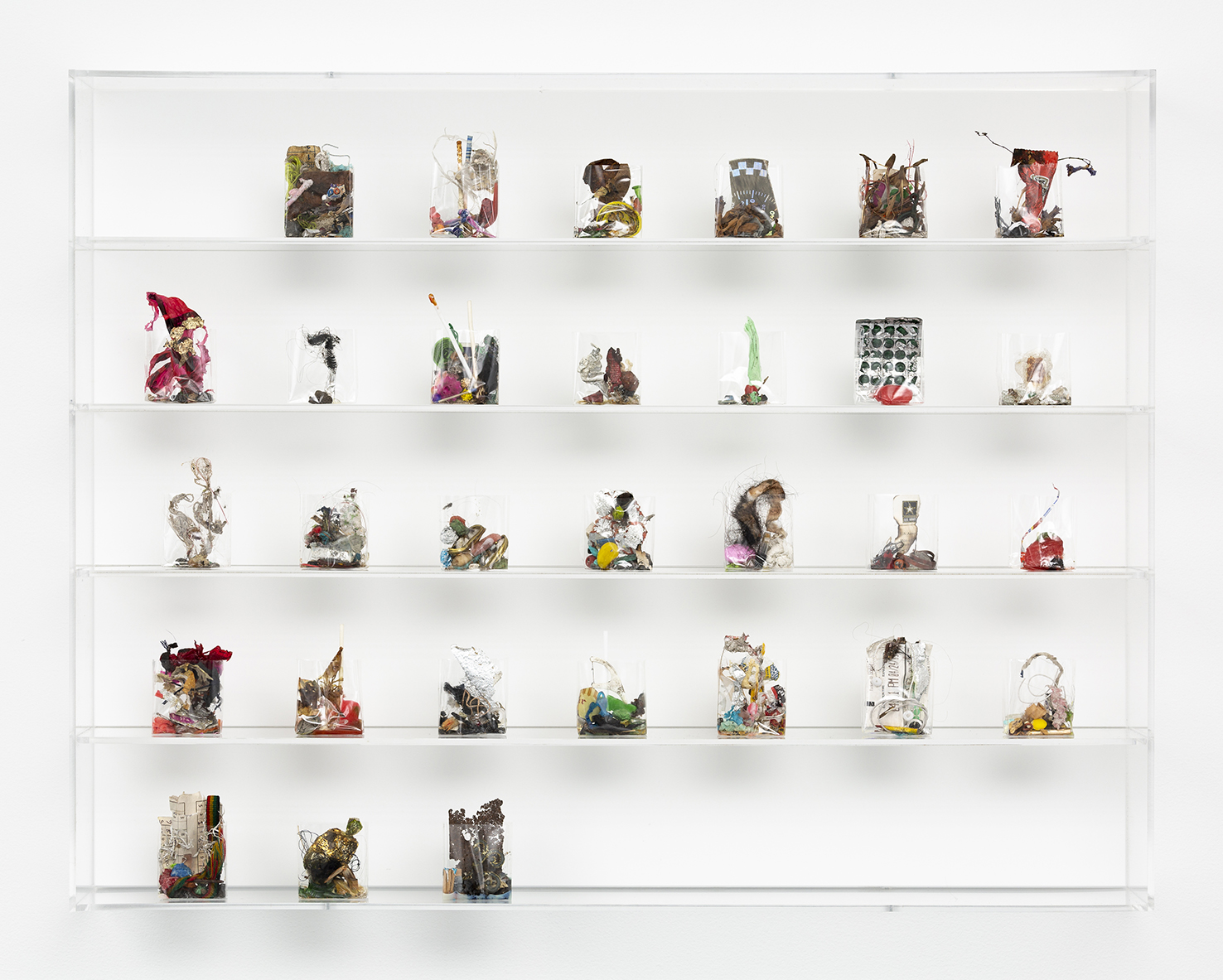 Yuji Agematsu, "zip: 04.01.19...04.30.19", 2019. Mixed media in cigarette pack cellophane wrappers (30 units) on wood backed acrylic shelf, latex paint, wrappers, each approx: 6,3 x 5,3 x 2,5 cm, shelving unit: 67,3 x 87 x 13,3 cm. Courtesy of the artist and Miguel Abreu Gallery, New York and La Maison de Rendez-vous, Brussels. Photo ©Stephen Faught
Hana Miletic
Hana Miletic reflects on issues of representation and social reproduction, by making linkages between photography and weaving. The artist models her woven textiles after her photographs that document repairs in public space. Miletić uses the weaving process – which requires considerable time and dedication – as a way to counteract certain economic and social conditions at work, such as acceleration, standardisation and transparency. The works within her on-going series "Materials» are based on images of broken car parts, doors, windows or buildings that were mended in creative, improvised ways by their owners, mostly by means of tape. Approaching the medium of weaving as a metaphorical act, Miletić weaves gestures of care and repair through which she consciously deals with the encountered states of loss and neglect.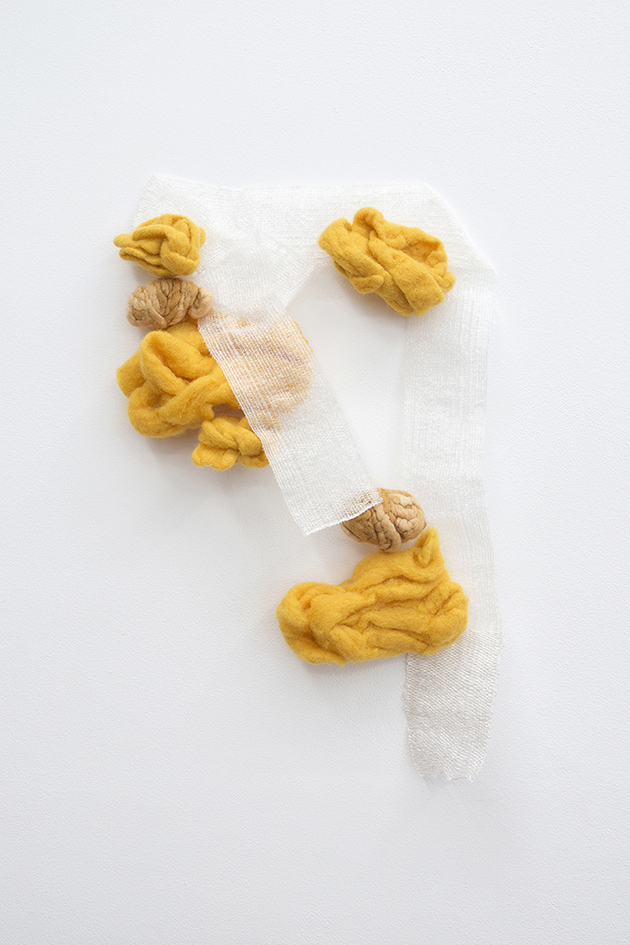 Hana Miletic, "Materials", 2020. Hand-woven textile (yellow hand-dyed organic felted raw wool, variegated beige organic felted Merino wool, recycled nylon and white silk), 33 x 21,5 x 4 cm. Courtesy of the artist and LambdaLambdaLambda.
Tatjana Danneberg
Tatjana Danneberg's practice is eventful. It unravels accidentally and it is determined by media and techniques layered upon each other. The starting point is a candid low-fi photography approach, by using cheap automatic cameras, Danneberg extends casual memories of the everyday depicting friends, acquaintances or her partner, in familiar often intimate shots. These shots purposefully reveal moments where action or the lack of it manifests. The protagonists, which identity is often difficult to recognize, are dismissing or defeating reality.The artist is preoccupied with the nature of images and the possibilities that can unfold through their manipulation and deconstruction; a painterly attitude emerges defined by a deepen material and processual experimentation. How can we paint with images? Released through specific body movements, brushstrokes fragment the photographic image gesturally turning it into an expressive painting. The image liquifies, becoming malleable, recomposed by the body, its strength, its intuitive motions on canvas. The artist's body becomes a decoding tool, transforming photography into painting. Historically in conflict, the representational media of photography and painting unravel their antagonism within Danneberg's work.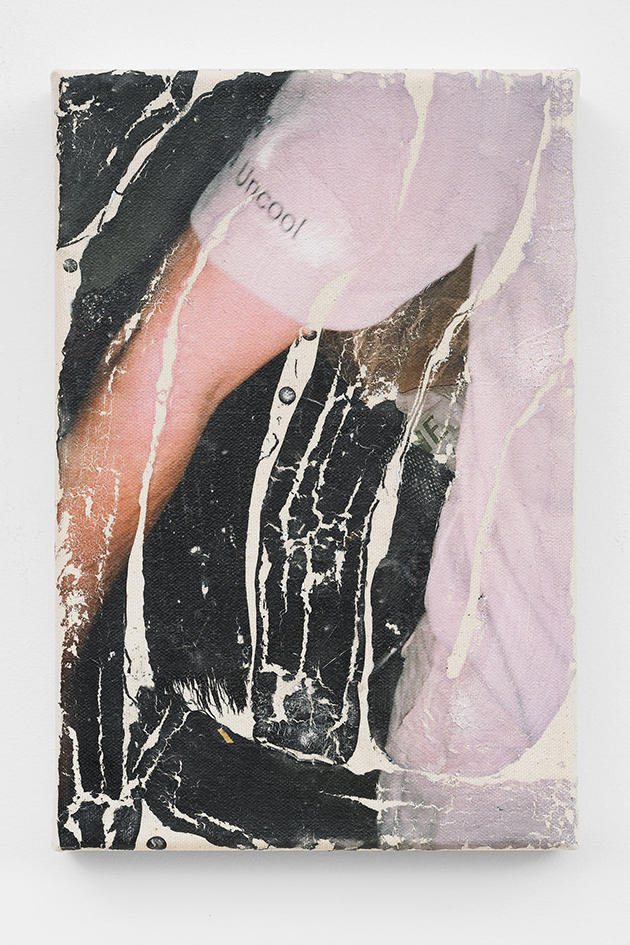 Tatjana Danneberg, "Uncool", 2020. Ink-jet print, gesso, glue on canvas, 20x 30 cm. Courtesy of the artist and LambdaLambdaLambda.
Hanne Lippard
Hanne Lippard has been using language as the raw material for her work for the last decade, processing it in the form of texts, vocal performances, sound installations, printed objects and sculpture. Her work takes its place in a rich history of the performative use of the voice, and the linguistic deconstruction of language, whose genealogy is found both in the fields of music, spoken word, theatre, sound, poetry, and art. Lippard has recently developed a series of works that explore the social forces governing female verbal expression; an expression that has been adroitly shaped since the time of the ancient Greeks as an instrument used for confining the place of women within a restricted social perimeter. The feminine was considered uncontrollable, and its language was fashioned in such a way as to ensure that women were continually attentive to the tone of their own voices and ways of expressing themselves. Until recently, the use of obscene and direct language was generally forbidden to them. Should they resort to it, the concomitant proof of their impurity and uncontrollable nature, supposedly inherent in their use of such language, would be held up against them in return. Between these two poles - a form of imposed expression and obscenity - female speech has long been limited to a narrow field. While gender relations have gradually become more balanced over time, former cultural codes still structure the use of language. Even where an obscene and irreverent form of expression is used as a tool to liberate female speech, such expression remains a mere reaction to these norms. Our collective unconscious has still not been fully decolonized, and many women confess to practicing self-censorship in all manner of situations where power struggles are at issue.

The installation Curse I-XIII (2018) reinterpret Roman curse tablets. The original curse tablets were generally created in the 2nd-4th centuries AD. by voiceless, provincial, non-citizens, women or slaves,- those whose speech did not count and who saw themselves relegated to the symbolic confines of the empire. While these tablets promised vengeance, they provided, above all, a release for psychological strain, like the platforms of expression offered by social media today. The artist has composed thirteen tablets as variations on the theme of resentment and malevolence. These revenge letters, that the artist sees as much as parodies as visual poems, provide a humorous commentary on the various topics related to her research.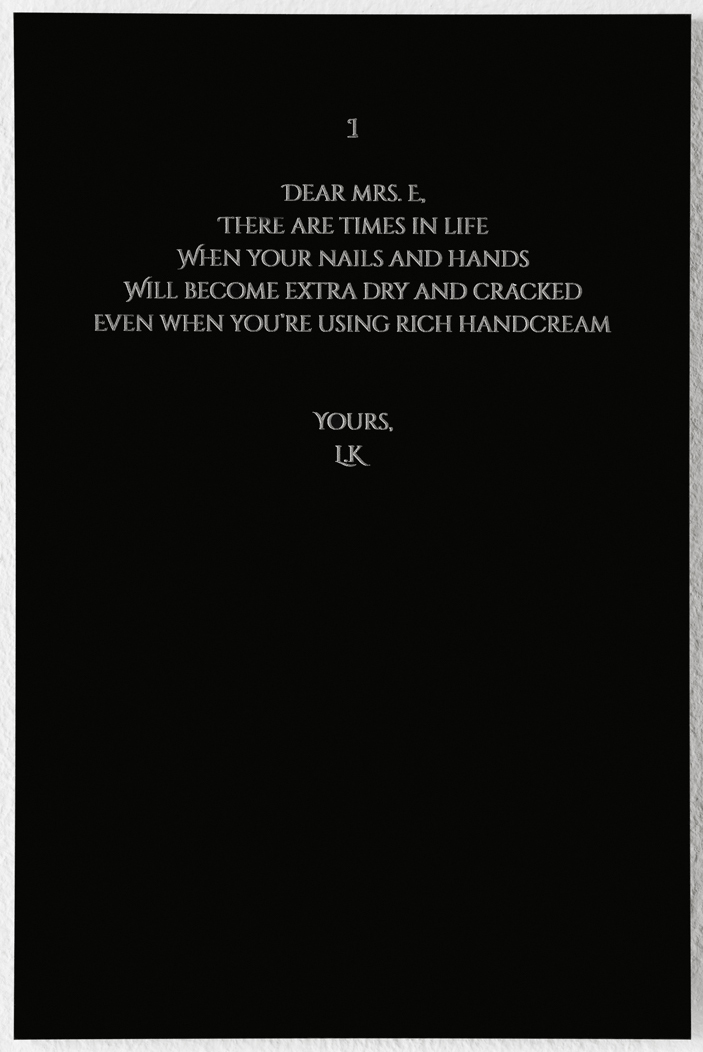 Hanne Lippard, "Curse I" from the serie "Curse I-XIII", 2018. Laser-engraving on plexiglass, each 11,6 x 17,7 cm. Courtesy of the artist and LambdaLambdaLambda.