THE WORLD'S LEAST MOISTENED CRY OF PLEASURE

Savagely bestridden until the collapse, hair dishevelled, eyes rolled back, legs contorted, genitals gaping, flaunting entrails of scrap metal and dust, her viscera and her blood. Port-au-Prince surrendered, stripped, naked, yet not obscene. What was obscene was her forced disrobing.
— Yanick Lahens, Fault Lines, 2010

The juice that swells their skin will line no throat. Only by squeezing them could one judge their ripeness, the melting sweetness that breaks down under the tongue. Rather than forbidden, the fruits of eroticism are forbidding. Gaëlle Choisne has laser-engraved on the skin of bananas, mangoes, oranges, persimmons, pomegranates, dragon fruit, lemons and more, a word or a series of words from Audre Lorde's quatrains If you come as softly. This love poem expresses the desire to communicate, to have the other – lover, sister, woman colonist – hear one's thoughts and gather them in with the necessary attentiveness and special care. Involved here are grief and the fertility of tears. The fruit, products equally of commercialisation and postcolonial exoticisation, are potent metaphors with kernels that catch in the throat. The literary tattooing sinks with climacteric decay, the words fade, wither, wrinkle, while some break apart, disappear. The passing of time compels our attention as the juice leaves the fruit. Gaëlle Choisne is alerting us to "the world's least moistened cry of pleasure", just as Suzanne Césaire did in the magazine Tropiques, marking her stay in Haiti in 1945: "The Haitian cicadas consider chirping out their love. When not a drop of water remains on the scorched grass, they sing furiously about the beauty of life and explode into a cry too vibrant for an insect's body. Their thin shell of dried silk stretched to the limit, they die as they let out the world's least moistened cry of pleasure."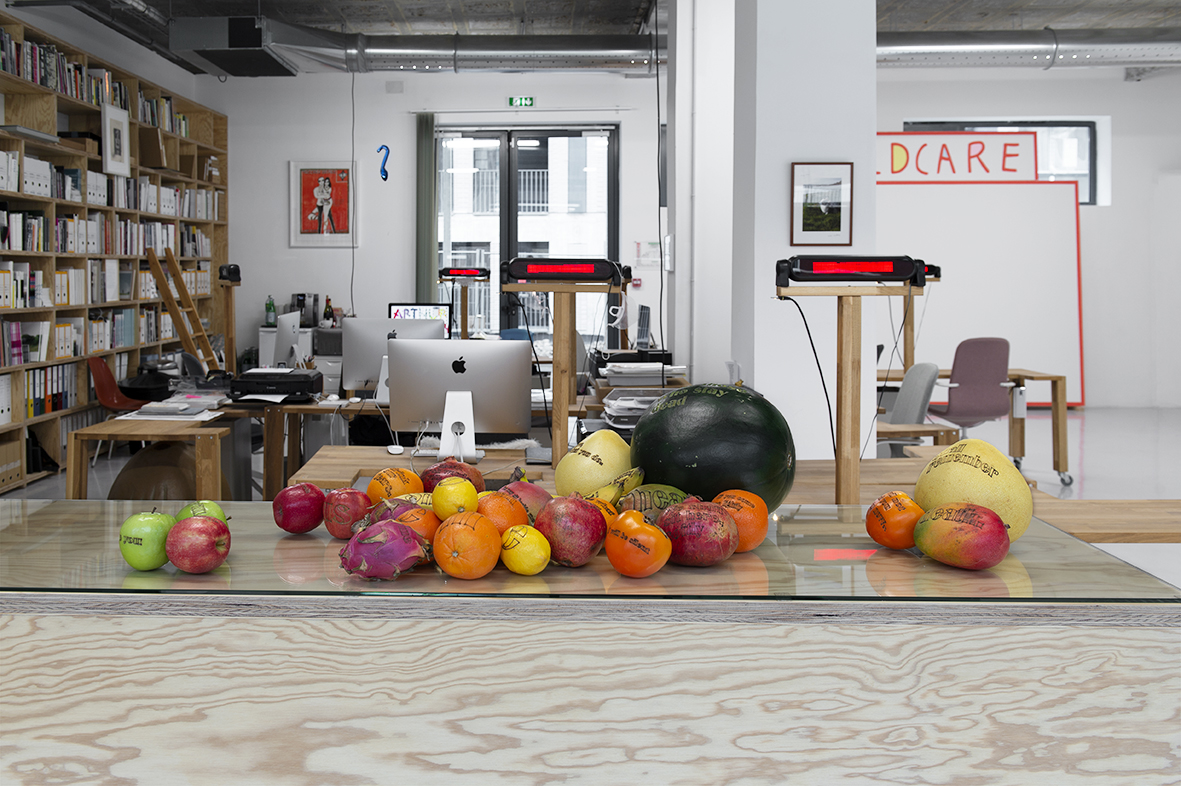 Gaëlle Choisne, Eat me (softly), 2021. Poem by Audre Lorde laser-engraved on 36 fruits (depending on arrival, season and location). Protocol variable dimensions. Unique.
The dry crackle of their language is etched into the nacreous shells, which in turn gather in the words of Maya Angelou. Gaëlle Choisne weaves her constellations, creates intimate starting points by cannibalising in the present the microhistories of the past. A series of small acrylic drawings, retouched with pastel and coloured pencils, is suspended in space. Like a herbarium or, rather, a multitude of Creole garden patches, territory won back from the masters. Their character is deceptive if we rely solely on the luxuriance of the what is depicted: a caged toucan, damask roses, birds of paradise, orchids. Other images are slipped into this tropical landscape: a demonstration against police violence, organised by Assa Traoré in Paris, and background from the Pussy Palace, an LGBT club for racialised people in London. Presented in wire grid frames and embellished with grigris, perfume and coin inserts, they transcend the exoticism of their subjects. Echoing a generation of Caribbean women writers who have spoken out against the exoticised representation of racialised women, against "doudou poetry" and "hammock lit", like the Nardal sisters and Suzanne Césaire. As Jane Nardal asked in her article "Pantins exotiques" ("Exotic Puppets", La Dépêche africaine, 15 October, 1928), "Shall we have the courage to divest ourselves of the prestige the literature of exoticism confers upon us and, as modernists, to clash with the past, rococo decor of hammocks, palm trees, virgin forest, etc.?" Gaëlle Choisne stands out, in the sense of a tonal shift or the dismantling of vocabulary.

— Émilie Notéris, avril 2021
Traduction John Tittensor