Brice Dellsperger
"More Body Doubles"

20 février - 20 mars 2010
fr/uk
Air de Paris a le plaisir de vous annoncer la nouvelle exposition personnelle de Brice Dellsperger, à l'occasion de laquelle sont présentés les deux derniers films de sa série Body Double, ainsi que des tirages photographiques liés à son dernier opus, Body Double 22, et un dessin inédit de Jean-Luc Verna.


Pour Body Double 23, Brice Dellsperger déconstruit la séquence du casting du Dalhia Noir de Brian de Palma, qui est déjà en elle-même un premier redoublement, entre le jeu de l'aspirante starlette et son image dans l'écran de capture. Le maquillage du corps de la nouvelle interprète de Betty Ann Short reprend ses futures mutilations. Les scènes ne sont pas juste reprises mais transformées en quelque chose d'absolument nouveau - un Body Double.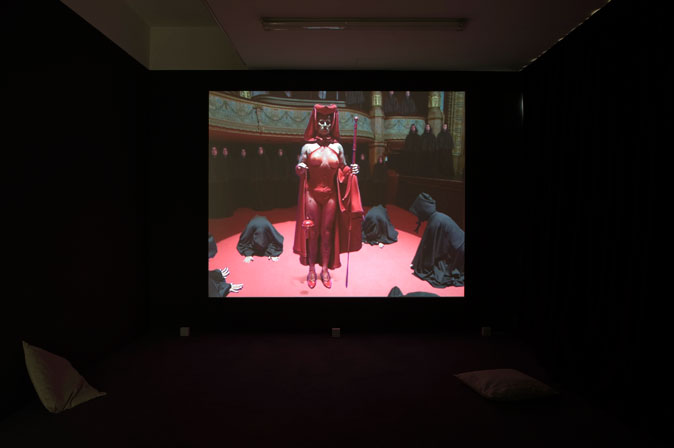 Avec Body Double 22, Brice Dellsperger s'empare de Eyes Wide Shut de Kubrick, un peu plus de dix ans après sa sortie. A nouveau, il collabore avec Jean-Luc Verna, qui tient simultanément tous les rôles. A la différence de ses films précédents, qui consistaient en la reprise d'une seule scène (hormis BD X qui reprenait l'intégralité de l'important c'est d'aimer de Zulawski, et BD16 qui reprenait des scènes de deux films différents), ce nouvel opus est l'occasion de l'application des mêmes principes de réalisation sur plusieurs scènes : des doublures dédoublées en autant de personnages féminins. Le trouble dans le genre qu'opère l'artiste (son acteur est systématiquement travesti en femme, même pour interpréter des rôles masculins) contamine à nouveau l'exercice du remake. Multipliant les scènes rejouées (le film dure 35 minutes), Body Double 22 en bouscule l'ordre. Il réorganise différentes séquences du dernier chef d'œuvre de Kubrick autour de la scène-clé du film, ici récurrente : le rituel secret découvert par le docteur Harford. Les opérations de dédoublement affectent alors la linéarité de la fiction, pour répartir comme en autant d'espaces les scènes rejouées et tournées dans différents espaces d'un même théâtre (le récit du rêve, la visite à la morgue, la femme nue dans la salle de bain, la visite à la fille du patient décédé...).. Les jeux d'incrustation permettent jusqu'à la superposition de scènes en un même plan (la dispute). Le recours au doublage sonore accentue le trouble général et contribue à le distancier du film de Kubrick.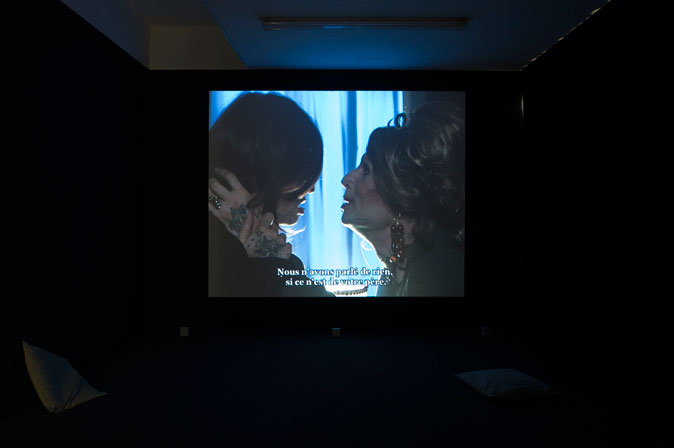 A la fois extrêmement fidèle dans la reconstitution des scènes, mais infidèle dans leur restitution (une actrice dont le corps préfigure le cadavre pour BD 23, un même acteur, un ordre chamboulé, une scène récurrente pour BD 22), Brice Dellsperger saisit à la fois le destin et les obsessions des personnages, le souvenir auquel le film peut donner lieu, et sa condensation dans une nouvelle forme. A l'instar de ses précédents opus, ces Body Double permettent également de réévaluer la réelle portée de son projet tant ils vont à la fois en deçà et au-delà du film qu'ils copient : retourner à la source du projet initial et le restituer ainsi que la mémoire aurait pu le faire. A l'instar de tout souvenir, qui est contraction, étirement, réinterprétation, en bref transformation d'une séquence vécue - ici filmée.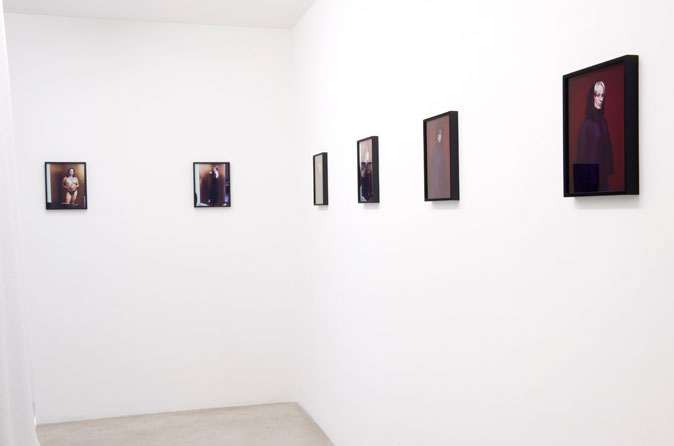 Né en 1972, Brice Dellsperger développe depuis 1995 le cycle des Body Double, présentés dans de nombreux festivals de cinéma internationaux et acquis par de nombreuses collections privées et publiques. Son long métrage, Body Double X est présent dans la prestigieuse collection des films du MoMA.
°°°°°°°°°°°
Air de Paris is delighted to announce the new solo exhibition by Brice Dellsperger. The exhibition include the two latest films in his Body Double series, together with photographs from the recent work Body Double 22 and brand new drawings by Jean-Luc Verna.


For Body Double 23 Brice Dellsperger deconstructs the casting sequence from Brian de Palma's Black Dahlia, itself already a doubling up of the acting of the aspiring starlet and her images on the screen. The body maquillage of the new actress playing Betty Ann Short retrojects her coming mutilations. The scenes are not just replicated, but transformed into something absolutely new – a Body Double.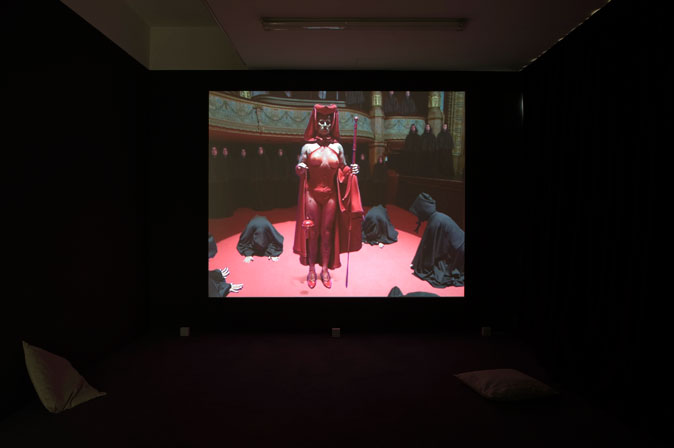 For Body Double 22, Dellsperger starts with Kubrick's Eyes Wide Shut, ten years after its initial release. Once again he is working with Jean-Luc Verna, who plays all the parts. In contrast with his earlier films, limited to reprises of single scenes – the exceptions being BD X, which used the whole of Zulawski's That Most Important Thing: Love, and BD16, which included scenes from two different films – this new opus takes advantage of the opportunity to apply the same directing principles to several different scenes: doubles split off into female characters. The gender trouble the artist creates – his actor is systematically dressed as a woman, even when playing male parts – once again contaminates the remake exercise. Using a host of replayed scenes – the film lasts 35 minutes – Body Double 22 jumbles their order, reorganising different sequences from Kubrick's last masterpiece around the original's key scene – Dr Harford's discovery of the secret ritual – which here recurs over and over. The splitting operations thus interfere with the film's linearity, dividing into different spaces the scenes re-enacted and shot in different parts of the same theatre: the dream narrative, the visit to the morgue, the naked woman in the bathroom, the visit to the dead patient's daughter, etc. The use of inlays even enables the overlaying of scenes within a single shot, that of the argument. In addition, the use of overdubbed sound heightens the general unease and helps distance the film from Kubrick's original.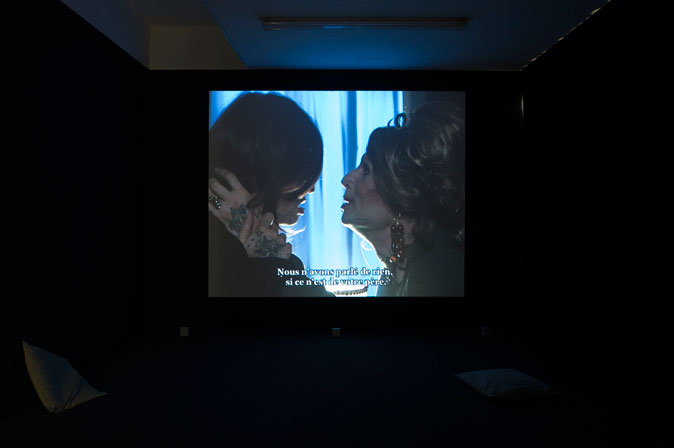 At once extremely exact in its reconstruction of the scenes, but not in their presentation – an actress whose body prefigures the corpse of BD 23, use of one and the same actor, an order in disarray, a recurring scene for BD 22 –Dellsperger's work captures both the fate and the obsessions of the characters, the memory the film can give rise to, and its condensation in a new form. Like his preceding pieces, and in that they both fall short of and transcend the film they are copying, these Body Doubles also let us assess the real scope of his project: a return to the source of the original and a reproduction of it such as memory might have achieved. Memory which is always contraction, drawing-out, reinterpretation – in other words, transformation of a lived sequence, here in filmed form.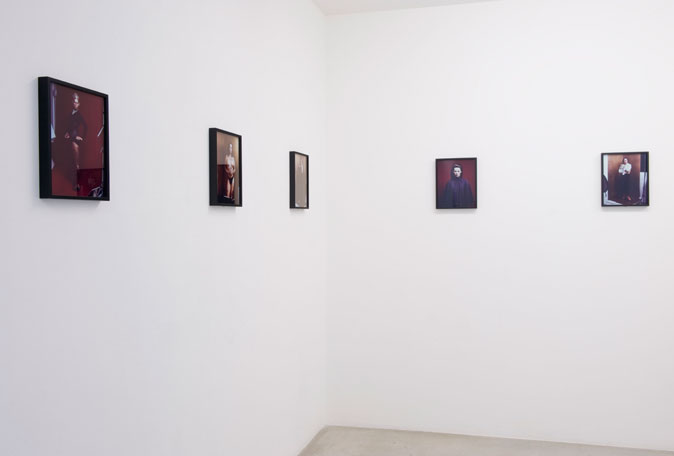 Born in 1972, Brice Dellsperger has been working on his Body Double cycle since 1995. The films have been shown at many international film festivals and been acquired by private and public collections. His feature-length Body Double X is part of the prestigious MoMA collection in New York.