A l'occasion de sa dernière exposition de la saison, avec Christophe Herreros, Carsten Höller et Bruno Serralongue, Air de Paris emprunte au Centre Pompidou le titre de son exposition d'été, mais augmenté d'un "z" cronenbergien. Le "pays" ici abordé n'est pas rêvé, il est bien réel, non pas magnifié mais parcouru (Christophe Herreros), modifié (Carsten Höller) et vérifié (Bruno Serralongue).
CHRISTOPHE HERREROS
Christophe Herreros, qui participait récemment au Salon de Montrouge, réalise des films qui sont de courts plans séquence présentés en boucle. Le film présenté dans Dreamlandz, Once upon the End, est le second volet d'une trilogie dont le premier a été présenté à l'exposition des félicités des Beaux-Arts de Paris, et le dernier à la Biennale de la Jeune Création de Mulhouse. Le mouvement de la caméra de Christophe Herreros devient l'objet de ses films, leur narration même (le médium devient le message). Le film commence sur une mise en scène reprenant les codes du cinéma, enchaîne un hors champ contemplatif et semble, dernière étape de la dialectique, les réunir sur un plan statique final, dans lequel le mouvement n'est plus l'apanage de la caméra mais celui de la voiture sur laquelle commençait le film.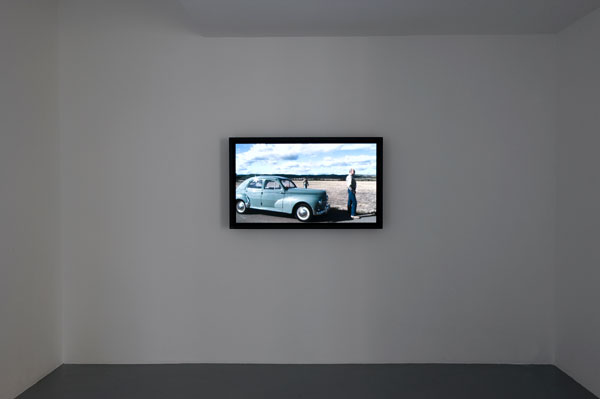 CARSTEN HÖLLER
La dernière série de gravures de Carsten Höller est réalisée à partir de photographies de canaris génétiquement modifiés. Imprimés à l'or fin, de la couleur des vrai oiseaux, ces gravures donnent à voir des oiseaux stériles, et dont les formes sont inédites. Carsten Höller poursuit ainsi ses recherches sur les formes du vivant et les questions de la modification de la perception : le vivant, poussé par la technologie, augmente son répertoire de formes, l'enrichit, l'hallucine.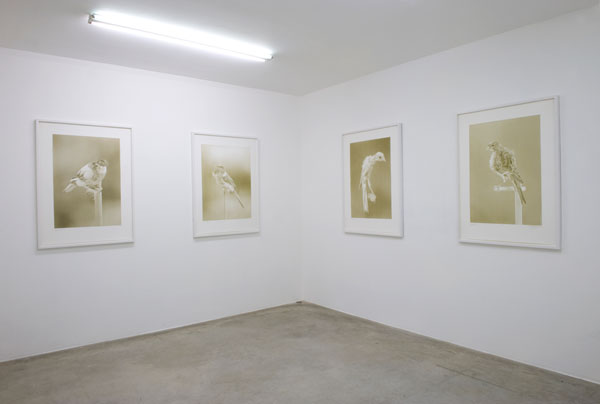 BRUNO SERRALONGUE
Lors de l'été 1994, Bruno Serralongue suivit scrupuleusement le calendrier des fêtes du département des Alpes maritimes. Fêtes populaires, consacrées à des spécialités locales ou au contraire visant à créer un exotisme (au risque de la pacotille). En 2000, il réalisait une série à l'exposition universelle de Hanovre. A l'inverse des fêtes de la série précédente, les moyens démesurés contrastaient avec le peu de public qui s'y déplaça. Bruno Serralongue mesurait ainsi l'écart entre l'événement annoncé et sa réalité, dans deux dimensions largement différentes, dans les moyens comme dans les faits.
Ces oeuvres sont présentées parallèlement à l'exposition "Feux de Camp" que lui consacre le Jeu de Paume jusqu'au 5 septembre prochain, et qui sera ensuite présentée à La Virreina Centre de Imatge de Barcelone de novembre 2010 à janvier 2011. Un catalogue monographique est publié aux éditions du Jeu de Paume, ainsi que sa version anglaise aux éditions JRPRingier.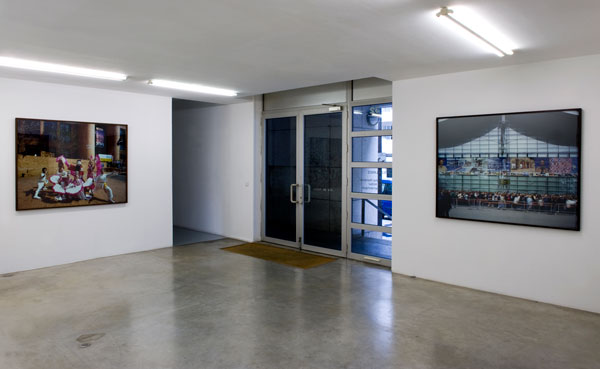 -----
For its last exhibition for the season – work by Christophe Herreros, Carsten Höller and Bruno Serralongue – Air de Paris has borrowed the title of the Centre Pompidou's summer exhibition, with a Cronenberg-style "z" thrown in for good measure. Nothing dreamy about these "landz", though: they're very real and not so much idealised as travelled over (Christophe Herreros), modified (Carsten Höller) and checked out (Bruno Serralongue).
CHRISTOPHE HERREROS
A recent participant at the Montrouge Salon, Christophe Herreros makes films comprising brief continuous shots shown as loops. Once upon the End, his Dreamlandz presentation, is the second segment of a trilogy; the first was part of the exhibition of the top graduates of the Ecole des Beaux-Arts in Paris, and the third was seen at the Young Artists Biennial in Mulhouse. Camera movement becomes the subject and even the narrative thread – the medium becomes the message. The film begins with a mise en scène using the codes of the cinema, follows up with an off-camera contemplation and seems, in the final stage of the dialectic, to unite the two in a closing static shot in which movement is no longer the camera's prerogative, but rather that of the car the film began with.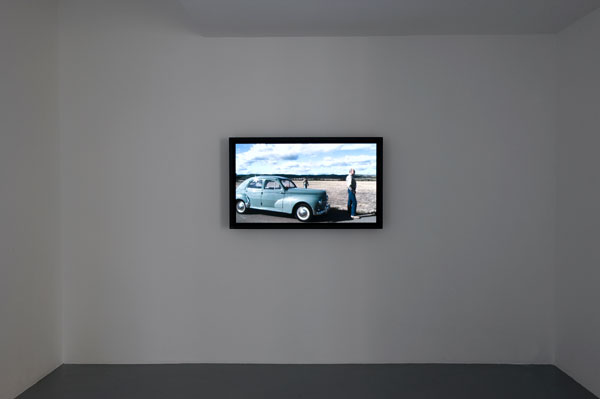 CARSTEN HÖLLER
Carsten Höller's latest series of etchings is based on photographs of genetically modified canaries. Printed in fine gold – the canaries' actual colour – the etchings show sterile birds of unorthodox shapes. Here Höller pursues his research into the shapes of living things and modifications of perception. Stimulated by technology, living systems increase and enhance their repertoire to the point of hallucination.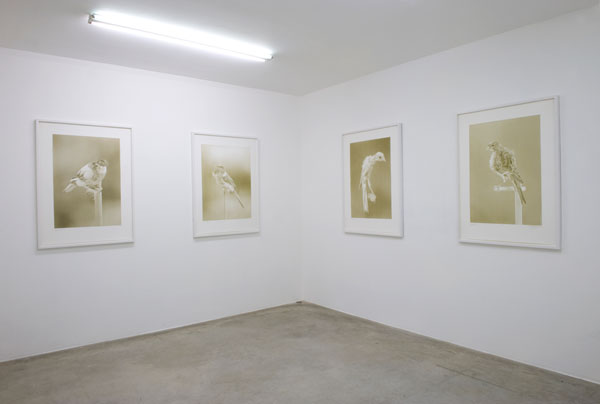 BRUNO SERRALONGUE
In the summer of 1994 Bruno Serralongue attended all the local festivals in France's Alpes Maritimes département: festivals devoted to local specialties or, on the contrary, setting out to create something new and exotic – at the risk of going kitsch. In 2000 he realized another series at the Universal Exposition in Hanover: in contrast with the liveliness of the preceding series, the new one contrasted presentation overkill with very limited attendances. Thus Serralongue demonstrated the disparity between the event as publicised and its reality, in two very different registers: financial resources and the facts.
These two works are being shown in parallel at the exhibition "Feux de Camp" (Campfires), at the Jeu de Paume in Paris until September 5, then travelling to La Virreina Centre de Imatge in Barcelona (November 2010 – January 2011). A monograph is being published by Editions du Jeu de Paume, with JRPRingier bringing out the English version.