29 oct. - 11 déc. 2010
Allen Rupperberg
No Time Left To Start Again /2
Air de Paris a le plaisir de présenter la seconde exposition personnelle d'Allen Ruppersberg dans ses murs : trois nouveaux projets qui portent à nouveau sur les pratiques de la collection et la façon dont nous reconstruisons et vivons par des histoires toute expérience.
Dans l'installation principale, No Time Left to Start Again / The B and D of R'n'R, l'artiste décore des panneaux sérigraphiés de couleur vives (cibles, fanions et poésie visuelle) avec des impressions couleur d'étiquettes de disques, de nécrologies de musiciens de rock n' roll et de photographies trouvées, portraits de famille, d'adolescents stylés ou rebelles, toute une population contemporaine des années 40, 50 et 60, décennies qui voient cette musique popularisée grâce au microsillon... Plus d'un millier de documents collectionnés qui ne sont pas présentés sur les panneaux sont stockés dans des cartons, compilant toutes les autres histoires possibles. Cette installation est la deuxième d'une série de 5, un ensemble qui recouvrera une période qui commence en 1921 avec le premier enregistrement de musique blues, jusqu'au début des années 70, quand le rock n ' roll devient le rock. L'artiste a produit également une compilation sonore sur les influences du rock'n'roll et ses différentes formes, équivalent sonore du voyage visuel autour de cette musique à laquelle invitent les panneaux. Les volumes 1 et 2 sont disponibles en vinyles à la galerie.
Dans Spell for Creating a Familiar, Ruppersberg insiste sur la dimension participative et créative de l'acte de lecture comme moyen de réanimation / revivification. Des extraits de textes d'un livre de magie – un sortilège qui donne vie à un objet inanimé - sont associées à des images de jouets miniatures. De sorte que l'œuvre présente une histoire partielle qui ne peut être finie que par le spectateur déchiffrant les images animées par un pouvoir pré langagier, tout en lisant à voix haute le texte.
L'œuvre LA in the 70s présente également textes et images dont l'association doit être faite par le spectateur. Un article de journal sur un restaurant de la ville de Los Angeles est morcelé et accompagné de photographies de restaurants que l'artiste a prises en 1970. 11 ans après le premier happening d'Allan Kaprow, 1 an après l'exposition fondatrice «Quand les attitudes deviennent formes » à laquelle Allen Ruppersberg participait, c'est la grande époque de l'art conceptuel.
Nous avons également le plaisir de présenter trois nouvelles sérigraphies uniques de l'artiste, qui déclinent les questions qui reviennent sans cesse dans l'œuvre de l'artiste (« Honey, I rearranged the collection… »), la mémoire collective de Los Angeles et des hommages à son panthéon personnel d'artistes disparus (Marcel Broodthaers, Guy de Cointet, Bas Jan Ader, Wolfgang Stoerchle, Jack Goldstein).
Des expositions monographiques ont été récemment consacrées à Allen Ruppersberg au Santa Monica Museum of Art (2009) ainsi qu'au Camden Arts Center de Londres (2008). Il participe aux prochaines expositions suivantes : The Last Newspaper, New Museum, New York (5 octobre 2010); Conjuring Houdini, The Jewish Museum, New York (31 octobre 2010), ainsi que dans des expositions au Museum Of Contemporary Art, Los Angeles, Pomona College Museum of Art, Claremont, ainsi qu'à l'Orange County Museum of Art, Newport Beach, dans le cadre de l'exposition-fleuve Pacific Standard Time : Art in L.A. 1945-1980, organisée par Fondation Getty (automne-hiver 2011).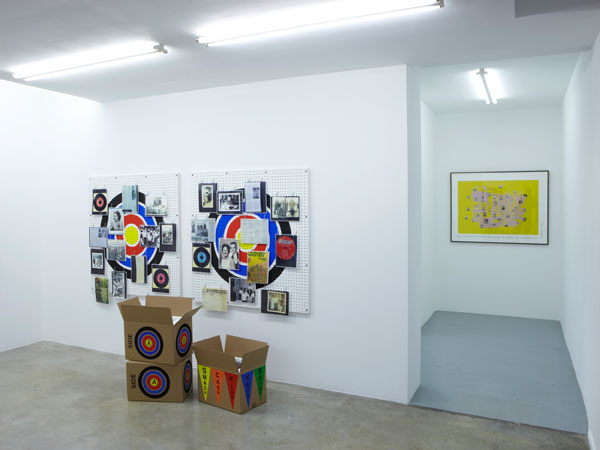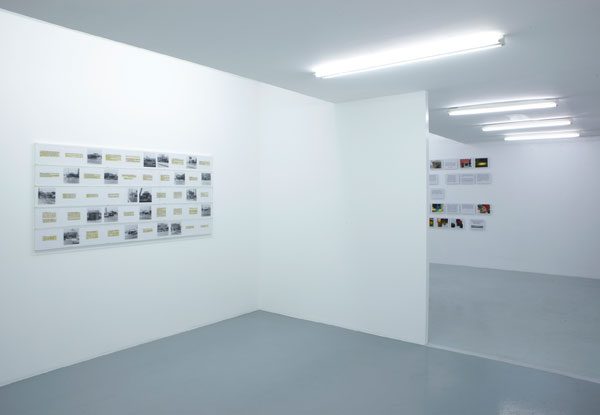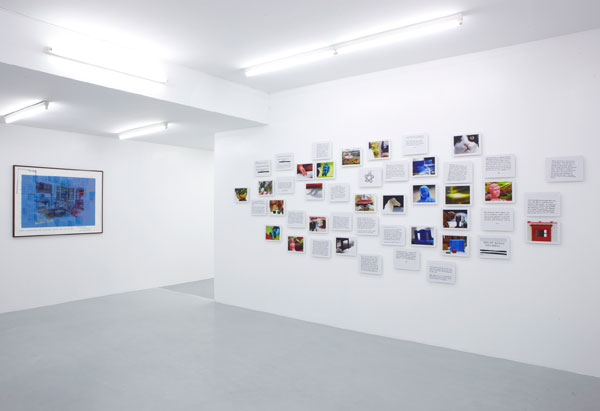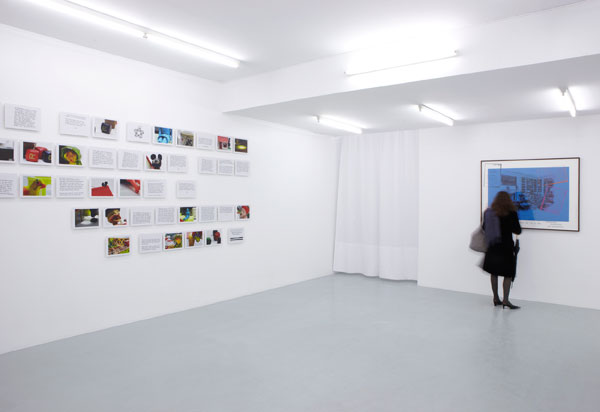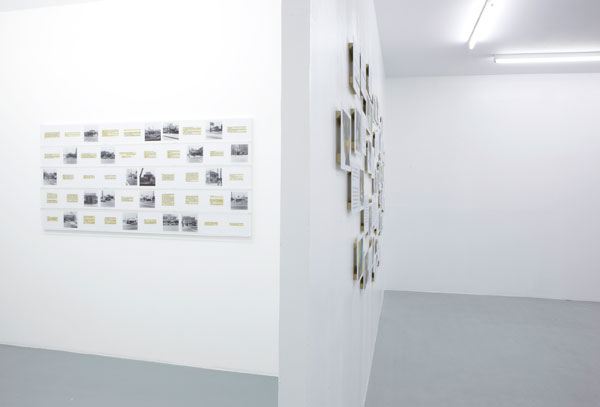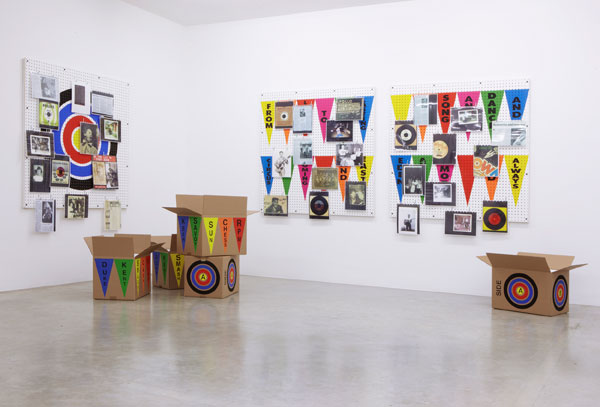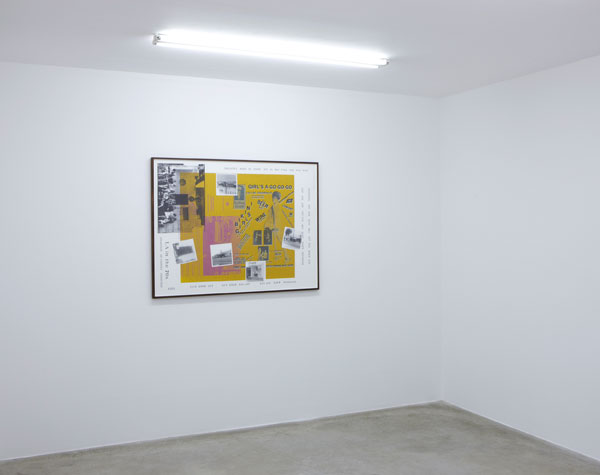 Air de Paris is pleased to present an exhibition of new work by Allen Ruppersberg titled No Time Left To Start Again / 2.
Ruppersberg presents three new projects that focus upon the practice of collecting and the way in which we reconstruct and enliven narratives.
In the large installation, No Time Left To Start Again/ The B and D of R 'n' R , the artist adorns colorfully silk-screened pegboards—some revisiting the artist's poems about music—with laminated color copies of record labels, album covers, found photographs of teenagers in alternative fashions of the 1940s, 50s, and 60s, and obituaries of rock and roll artists. Numbering over one thousand, reclaimed material that doesn't fit onto the pegboards is stacked into boxes below, a visual reminder of the myriad of alternative narratives waiting at the periphery. The artist has also produced a compilation record of rock 'n' roll's diverse musical influences and manifestations, forming an audio soundtrack to echo the visual journey taken across the pegboards.
In Spell for Creating a Familiar, Ruppersberg, as he has throughout his career, chooses to emphasize the participatory act of reading as a means of re-animation. Texts from a magic spell book are interspersed with tightly cropped images of miscellaneous miniature toys, presenting a partial narrative that can only be completed as the viewer attempts to decipher the photographs and read the spell aloud.
Similarly, L.A. in the 70s presents text and images to be assembled and interpreted by the viewer. A 1980s Los Angeles Times article on a once-mysterious restaurant, The Original Spanish Kitchen on Beverly Boulevard, is juxtaposed with early 1970s snapshots of small eateries, creating a refreshed narrative for the city's social and culinary structure.
A large silkscreen of the same title layer images of Los Angeles landmarks and street scenes, with visual indicators of the city's art community.
Ruppersberg's work has recently been the subject of solo exhibitions at the Santa Monica Museum of Art (2009) and the Camden Arts Centre in London (2008). His work will be included in the upcoming group shows: The Last Newspaper, New Museum, New York (5 October 2010); Conjuring Houdini, The Jewish Museum, New York (31 October 2010); and in exhibitions at the Museum of Contemporary Art, Los Angeles; Pomona College Museum of Art, Claremont; and Orange County Museum of Art, Newport Beach in conjunction with Pacific Standard Time: Art in L.A. 1945-1980 organized by the Getty Foundation (Fall/Winter 2011).
---